Year 4
French Afternoon - Monday 2nd July
Year 4 enjoyed a very busy afternoon in France today. They practised ordering from the menu in French at our very own French Bistro, took part in a thrilling game of pétanque in the glorious sunshine and learned all about the Tour de France.
Monet
Today in year 4 children learned about Claude Monet and created their own versions of one of his most famous paintings, 'Water Lillies'.
The Mummy's Curse
Year 4 had another fantastic theme day this week, when they were invited to attend a lecture by the famous Egyptologist, Howard Carter. Mr Carter set out to disprove all the rumours they had been spreading about the mummy's curse. Unfortunately, things did not quite go as he had expected!
Elliie-May created this fabulous drawing of Anubis, the god that ancient Egyptians believed watched over the dead. Well done Ellie May!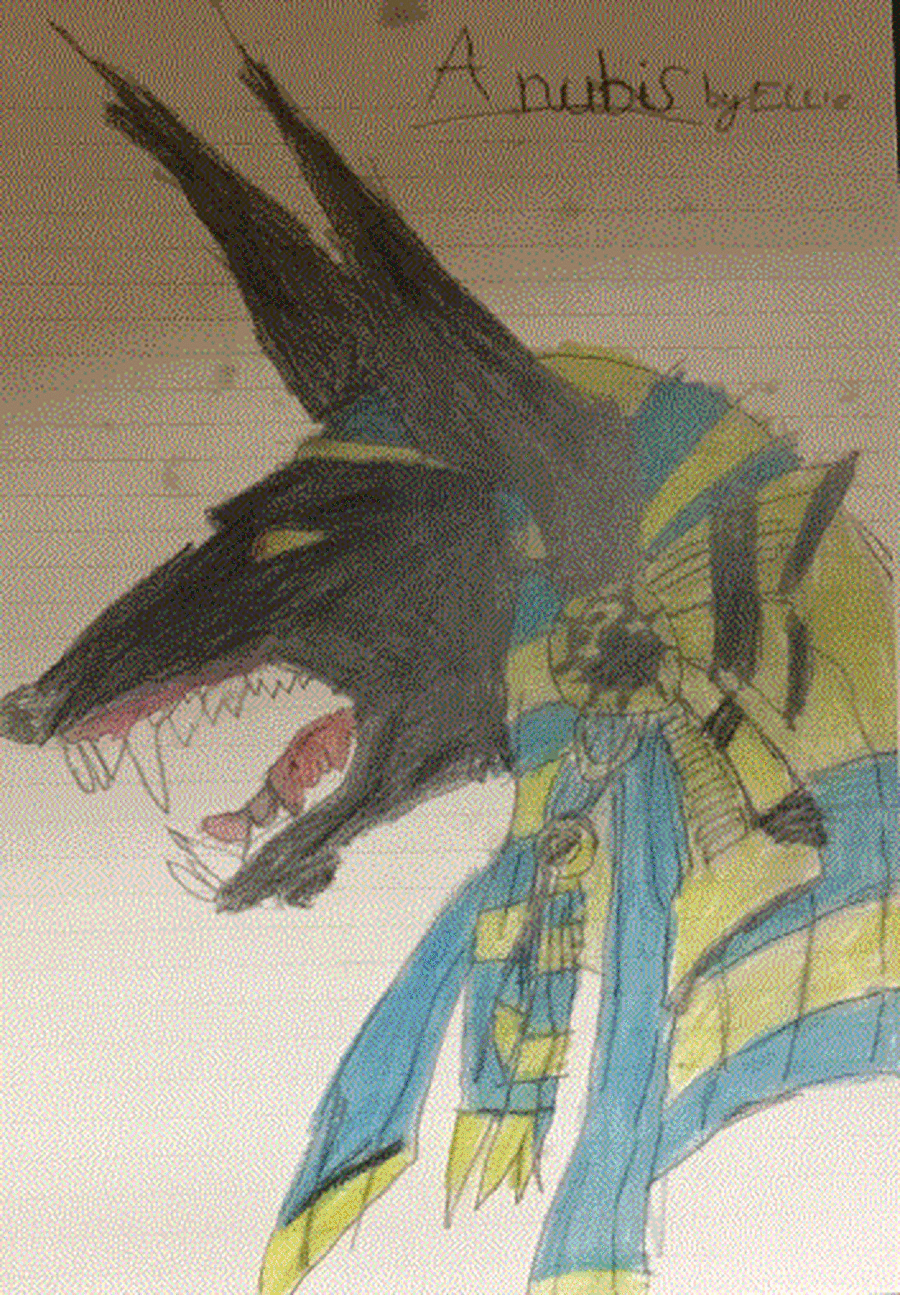 As part on our RE work on Diwali, Year 4 created mehndi hands using traditional patterns for fingers, palms and wrists. Miss England then took their intricate designs and turned them into this stunning display!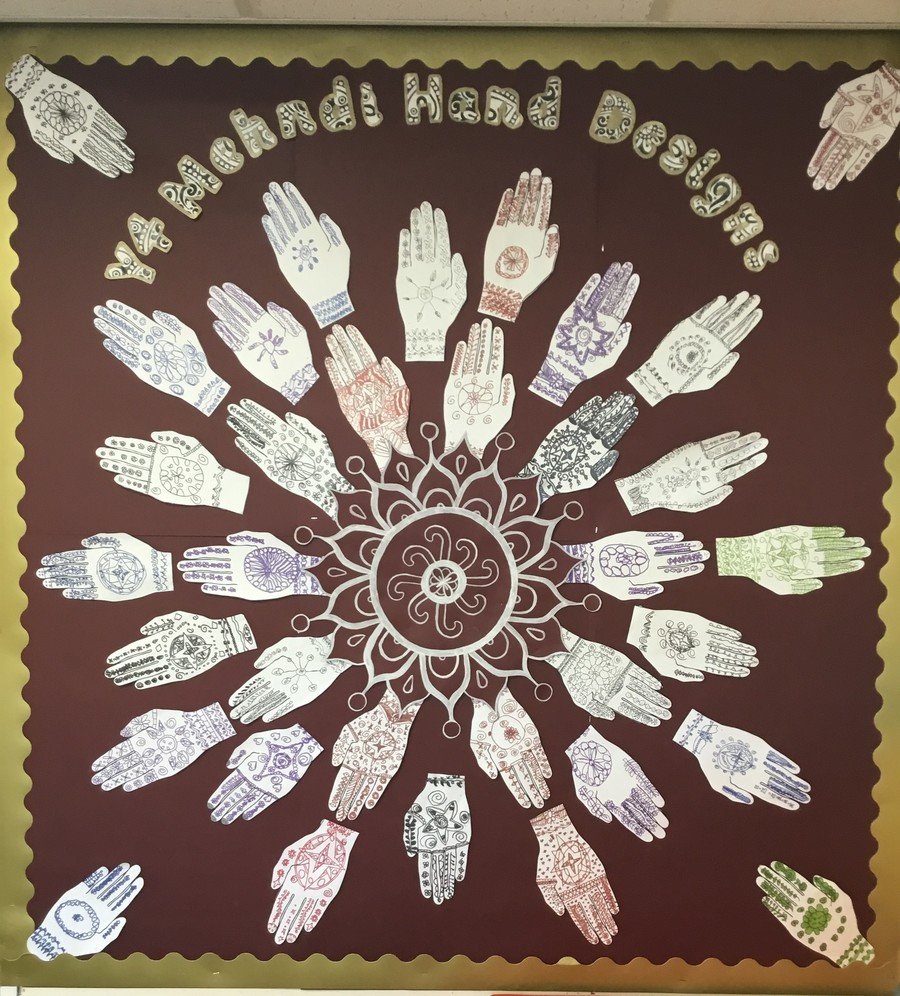 Challenge cup visit
Before their evening tie with Hull, Featherstone Rovers visited school with the Challenge cup trophy. Pupils learnt about the history of 'The Colliers' and their past cup exploits before some of the school's own rugby players were lucky enough to have their photo taken with the prestigious trophy.
The Tomb of Tutankhamun
The children had a day to remember when one of the classrooms was transformed into the tomb of the Ancient Egyptian boy king, Tutankhamun. Pupils took it in turns to recreate the moment when the famous archaeologist, Howard Carter, first crawled into the tomb with his lamp and discovered what lay inside. The children were buzzing with excitement and will be writing up their experiences as a journal entry. The children also made clay cartouches (names written in hieroglyphics) and pharaoh masks. This work will be showcased on our new 'Ancient Egypt' display alongside our 'Mystery from History' poetry, which was inspired by Benjamin Zephaniah.
Karate lessons
Year 4 were very lucky to have a visit from Sensei Ty, lead instructor at Featherstone's Sengoku Martial Arts. Sensei Ty kindly took each class for a PE lesson in which the pupils learnt about karate and were taught self-defence skills such as punching, kicking and breathing technique. It was a highly-enjoyable morning and many children expressed an interest in learning more about martial arts in the future.
Bun Sale to raise funds for Y4 reading areas and books
A very big thank you to everyone who supported our fundraising through bringing buns to sell and/or spending their money on the delicious treats on offer. We raised a fantastic £163.40 which will enable us to purchase new sets of books for the new reading areas in each class.
Improving spelling is a target in Year 4 and we have found a free website which allows the children to practise and test themselves on the Year 3/4 statutory spelling list. Click on the link below to go to the website:
4LS have been studying the Far East as part of their 'Where in the World... ?' topic. The children have enjoyed a myriad of enjoyable activities so far, including...
Chopstick Challenge - how many M&Ms can you transfer from one dish to another in two minutes?
Taekwondo - the children learnt how to defend themselves against a punch and practised their hopping sidekicks. They even advanced to trying out a tornado kick!
Origami - following instructions that had been downloaded from the internet, the class used the art of folding paper to create a colourful flock of birds.
Sweet and Sour Chicken - with help from Mr Lowe's 'Uncle Ben', the children wrote instructions on how to make this traditional Chinese dish before tasting the meal for themselves!
Earthquake-proof buildings - 4LS learnt why Japan is prone to earthquakes and how its buildings have to be able to sway during an earthquake. After learning the incredibly-catchy earthquake safety song, the pupils then competed in teams using marshmallows and cocktail sticks to create the tallest structure able to survive an earthquake (or Mr Lowe shaking the table).
Terracotta Army - after learning about these iconic Chinese statues,
George's Marvellous Medicine
Mr Lowe's reading group have had great fun cooking up their own version of Grandma's medicine to help them create fantastic descriptions. Judging by their reactions to a drop of chili sauce on their finger, the class believe that Grandma will be "blasted to the moon" when she has her medicine because they "chucked in the whole lot!" Watch this space for the recipe!
Welcome to our new Year 4 pupils! The staff are really looking forward to learning with you this coming year; we have got some exciting topics and activities planned! Our first topic is 'Romans' and will see us investigating famous events, landmarks and people. It is a great topic to start with as it links to many of our other subjects such as Maths, Literacy, Art, Geography, Languages, R.E., Science and, of course, History!
Below are the Medium Term Plan (what we will be studying during the Autumn term) and the Long Term Plan (an overview of all the learning that will take place during Year 4).