Our thoughts and prayers are with you at this difficult time. Stay home, stay safe. Our thoughts and prayers are with you at this difficult time. Stay home, stay safe. Our thoughts and prayers are with you at this difficult time. Stay home, stay safe.
Coronavirus Update Page

-
latest information
Please check here for the latest school updates.
Please note that children should be kept at home wherever possible to reduce the risk and spread of Covid-19.
Children can now email teachers work/questions/queries using the following:
year3@stthomasfeatherstone.co.uk

year4@stthomasfeatherstone.co.uk year5@stthomasfeatherstone.co.uk yr6@stthomasfeatherstone.co.uk
Class pages will be updated weekly with home learning activities.
The SEND page has also been updated to provide alternative resources for children with specific requirements.
14/07/2020
REPORTS & SEPTEMBER OPENING LETTER - IMPORTANT
TO SEE THE YEAR 4-6 RE-OPENING LETTER, PLEASE CLICK HERE. FOR THE NEW YEAR 3 STARTER LETTER, PLEASE CLICK HERE.
Your child's report and an information letter on what you can expect in September is now available to collect from school reception FROM WEDNESDAY 15TH JULY AT 1PM.
A parent must collect the report/letter as it contains IMPORTANT information on the new school day starting September - START AND END TIMES HAVE CHANGED, so you will need to make or alter your child care arrangements.
Please ensure ONE PERSON at a time in Reception and social distance yourselves in the playground if there is a queue.
New Text and Email Service
We are using a new email and text messaging service starting in September called Teachers2Parents, which will make it easier to communicate with you. Please complete the form below with first parent contact details.
https://forms.office.com/Pages/ResponsePage.aspx…
Thank you.
UNIFORM
Unfortunately, we cannot sell uniform in school at the moment but we have set up an on-line uniform shop with our supplier School Trends. There are no minimum order quantities and your uniform will be delivered directly to your chosen address. The cardigans, jumpers and polo shirts all have our logo embroidered on them as part of our uniform policy but you can also order plain items such as trousers, skirts and shirts. Please check their measurement guide before ordering.
Please click on the link below to take you to the St Thomas Uniform Shop:
https://www.schooltrends.co.uk/uniform/StThomasCEVCJuniorSchoolWF75BG
alternatively visit www.schooltrends.co.uk Simply go to the website address, then select 'Find My School' and follow the order instructions.
Other ordering information including sizes, delivery information and the returns procedure is also available online.
Please note: school ties are not available to purchase through the shop but we are setting up an online payment system that allows us to sell ties and water bottles (items that don't need to be returned) in school from September - so if you need a spare, you will be able to get one from school.
Uniform is also now available to purchase from Better and Bright - another of our approved suppliers:
https://www.betterandbrightschoolwear.co.uk/
19.06.2020
Latest update letter - click here
10.06.2020
Update letter - click here
02/06/2020
Latest guidance from school for Key Workers, EHCP and Vulnerable pupils.
21/05/2020
Please find our latest letter here in regards to opening the school on 1st June.
11.05.2020
You will have most likely watched the Prime Minister's address to the nation yesterday and like us, you will have many questions. At the moment we have no further information on this, so please be patient and we will share what we know when we know it. We can reassure you that school will not re-open until it is absolutely safe to do so. Our plan for now, is to continue to provide activity packs for learning at home and links on the website, keep in contact with you, and continue to support each other during these very difficult and uncertain times.
07.05.2020
We have made some new learning packs for your child which you can collect from school reception after 1pm Thursday 7th May or w/c 11th May.
30.04.2020 - Happy 100th Birthday Captain Tom Moore!
A new 24 hour mental health helpline has been launched 0800 183 0558 - please see the document below for further information.
The Wakefield Mental Health Alliance has commissioned Wakefield Star Bereavement service to support children and young people who are tragically grieving during this time.
Any child, young person or someone caring for them who feels they need help and support due to bereavement can contact the service on:
info@starbereavement.co.uk or on 07599640714.
They will aim to respond Monday to Friday 9am-5pm.
https://www.starwakefield.org.uk/
27.04.2020
Updated information from the government on school closures: https://www.gov.uk/government/publications/closure-of-educational-settings-information-for-parents-and-carers/closure-of-educational-settings-information-for-parents-and-carers?fbclid=IwAR13-4CofV0C0qhsynN_Fq5TTCsC8P47SerWMst7plSffQkVPbdTElO3ssU
Updated information from the government on keeping children safe online: https://www.gov.uk/guidance/covid-19-staying-safe-online
We know a lot of fsm parents are struggling to redeem their vouchers from the Easter holidays. If you still haven't received your code, please check your spam/junk folders. If you have no success, please contact Mrs Dixon via email admin@stthomasfeatherstone.co.uk and she will do her best to look into this for you and find a resolution. If you have redeemed your code but haven't received the voucher you can contact Edenred directly freeschoolmealsparentscarers@edenred.com and include the voucher code in your email.
02.04.2020
EASTER HOLIDAY PROVISION
School will be closed during the Easter holiday due to new heating works being carried out within school, however, we will continue to provide provision for children of key workers at Purston Infants School for those key workers who have notified school that they need care during this time.
FREE SCHOOL MEALS DURING HOLIDAY TIME
During what would have been school holiday's, we are accessing the government voucher scheme. You will receive an email from EDENRED with instructions on how to download your voucher. Please check your inbox, junk/spam folders daily. There has been a significant amount of issues with the government website due to demand, which means that some parents have not yet received the link or voucher. Please continue to check your mail as all our vouchers have now been issued. If you haven't received a link by w/c 27th April or you haven't received the voucher after following the link, please email Mrs Dixon (SBM) at admin@stthomasfeatherstone.co.uk and I will try to help you further. Vouchers are £15 per week per child available to redeem at certain supermarkets.
FREE SCHOOL MEALS DURING TERM TIME
School will continue to provide free school meal children with a grab bag (except during the Easter holiday's). If you are currently eligible for free school meals and would like a grab bag for your child, please contact 01977 706063 and let school know. Further instructions will be given once you register with school. Please note: as we are working closely with our school lunch provider, Dolce, we will not be issuing any supermarket vouchers as per the government guidelines.
MESSAGE FROM STAFF:
Dear children, please keep any art work, stories or poems you write during this time, take pictures of models you build or dens. When we are back at school together will create a display to celebrate how amazing you all were during these strange times. Keep safe everyone - WE MISS YOU!
MESSAGES FROM FEATHERSTONE ROVERS: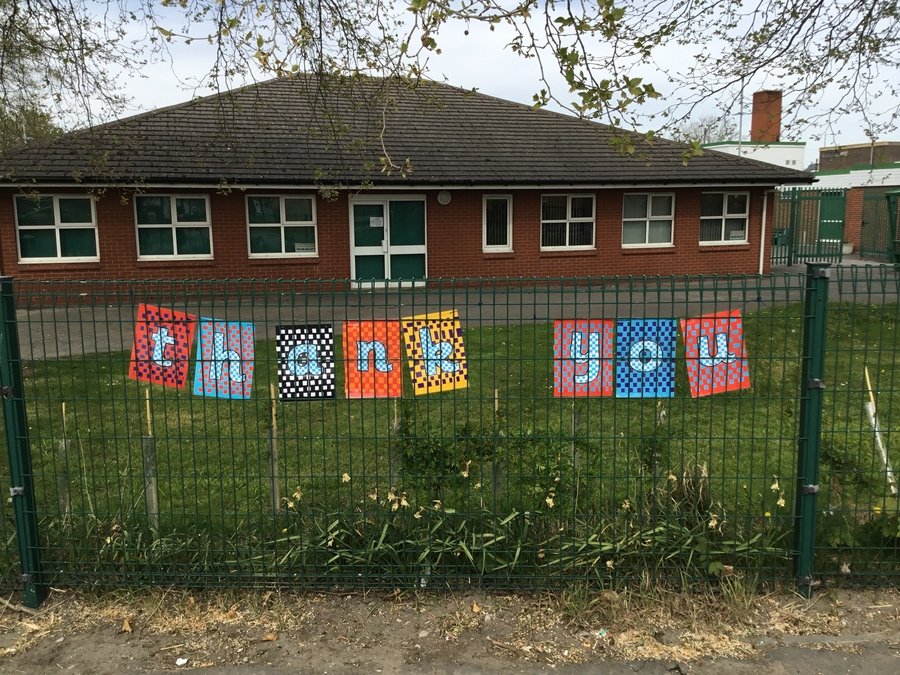 The children of our key workers have paper weaved their message...thank you Key Workers!!!!