Year 6 Leavers Hoodies
Year 6 Leavers Hoodies
10 July 2020 (by admin)
Leavers Hoodies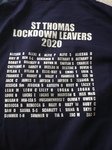 Year 6
Leavers Hoodies have arrived.
You can collect them from school on Tuesday 14th July between 10:30 and 11:30.
We will give you these and a few other goodies on the school field.
DO NOT ENTER SCHOOL – JUST MEET US ON THE SCHOOL FIELD. PLEASE NOTE THERE WILL BE NO TOILETS AVAILABLE FOR YOU.
When you arrive we have to ensure you are 2m apart from each other so it is an idea to bring a towel to sit on in case the field is wet! WE ALSO RECOMMEND THAT YOU WEAR A FACE MASK.
You need to bring any reading books or any study books that you have at home and we'll swap them for your hoodie! You should also bring a carrier bag to carry your things home.
Due to social distancing measures no parents will be allowed to come onto the school grounds with you.
We look forward to seeing you.